Western Massachusetts complete transportation service located in the heart of the Berkshire Mountains. Serving Pittsfield, Lenox, Lee, Great Barrington, and all surrounding Airports.
Family-owned and operated, Abbott's was founded in 1965 originally as "Don's Taxi" by our parents Donald & Jacqueline Abbott after our father "Don" suffered a disabling injury. Jackie, was a full time mom of six children, a music teacher, pianist, church organist and choir director. Both of our parents had hearts for entrepreneurism.  So began Abbott's Taxi.
In the mid 80's Paul Abbott returned from his schooling at ASU to build the family business to its new level. Building our matching fleet, our first limousine and a charter van service. From here we have grown and changed through each economic up and down in our area. Most recently we focus our efforts on long distance private sedan travel for families, corporations, visitors and resort travel.
Over the years we have expanded from one taxi cab to our expanding fleet of vehicles to suit our customer's needs. We keep our pulse on what the needs are of our individual clients and always look to achieve excellence. Our fleet currently contains a six and eight passenger limousines, 11 & 8 passenger vans, minivans, SUV's, crossovers and late model luxury sedans. We have an experienced and well qualified staff of dedicated reservationists, chauffeurs and car detailers that go above and beyond and have become part of our family.
Our mission is to provide the best customer service to the traveling public in the Berkshires and beyond. We began our serving the industry with our slogan of "Anywhere, Anytime" and still try to adhere to this principal. We pride ourselves on our commitment to excellence, giving back to our community and our hands on detailed attention to our business, our clients, employees and our fleet.  We are owner operated and feel that is the special touch our clients deserve.
Our service area to and from Berkshire County is very extensive contact us to discuss the details.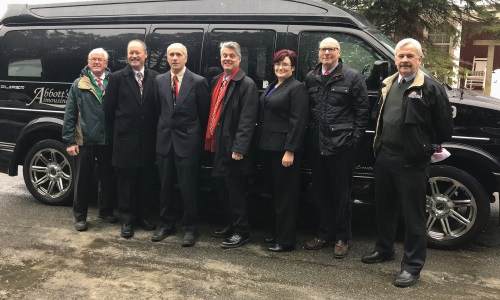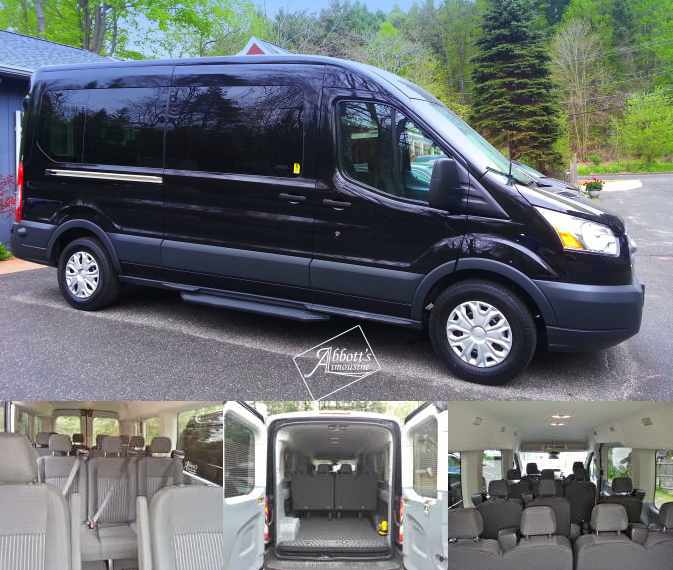 2016 Ford Transit 11 passenger Van
This luxury van will accommodate 11 passengers plus the driver with ample room for your luggage. Access for rear passengers is outstanding with easy isle access and plenty of headroom to stand. The dual heat and air conditioning make climate control easy and comfortable. There is also privacy glass if you desire to use it.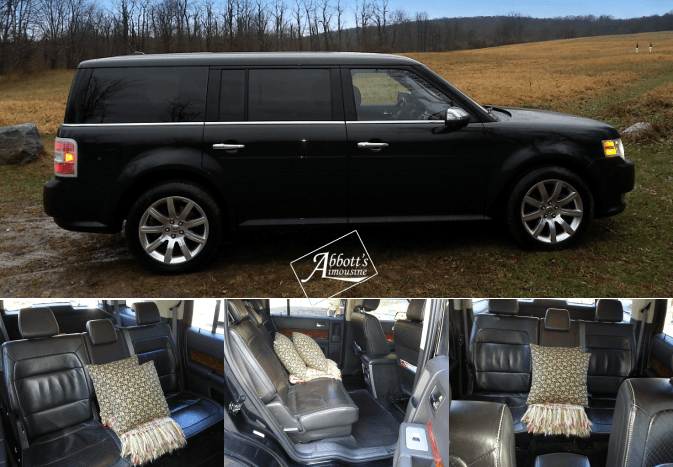 Ford Flex Crossover Wagon
Pure luxury and comfort for 4 passengers. This rig is as close to an old school station wagon as you can get in today's world with a classy well designed interior that has plenty of room, all-wheel drive, This is a premier ride for your family or a small group.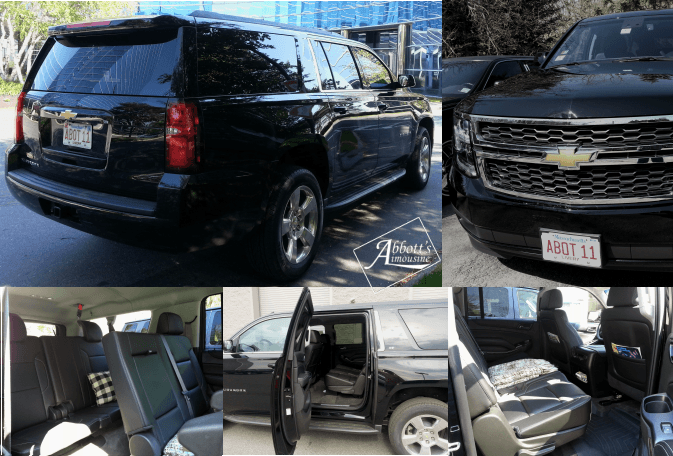 Redesigned Chevy Suburban
For all you SUV fans we have an awesome 2015 redesigned Suburban with more middle and 3rd row room. The extended rear doors make it easier to enter this is a 6 passenger plus luggage. Now with added safety there are side airbags should make your ride safer.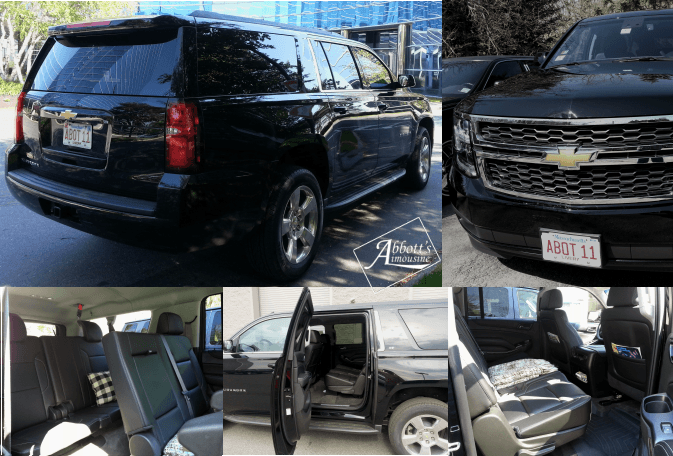 Redesigned Chevy Suburban
For all you SUV fans we have an awesome 2015 redesigned Suburban with more middle and 3rd row room. The extended rear doors make it easier to enter this is a 6 passenger plus luggage. Now with added safety there are side airbags should make your ride safer.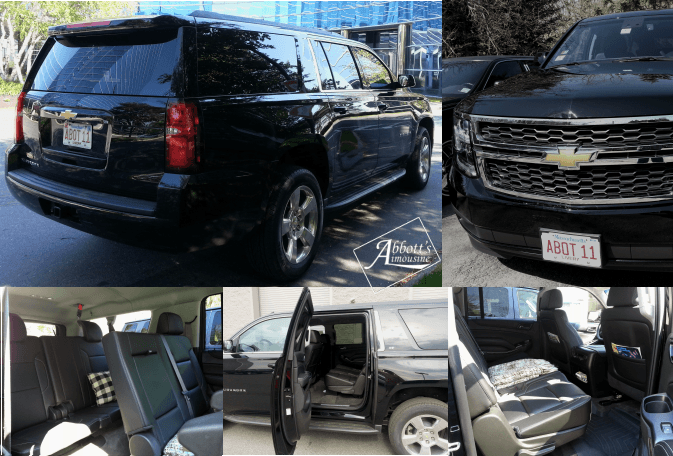 Redesigned Chevy Suburban
For all you SUV fans we have an awesome 2015 redesigned Suburban with more middle and 3rd row room. The extended rear doors make it easier to enter this is a 6 passenger plus luggage. Now with added safety there are side airbags should make your ride safer.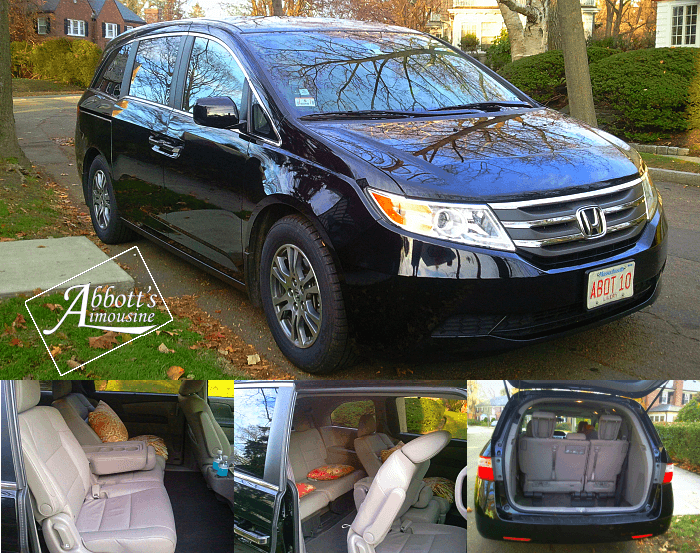 Honda Odyssey LX
Our Honda Odyssey LX has super comfortable leather seats, a reclining full bench middle row seat. Large well for luggage, Sun shades, XM radio this car is great for 5 people with luggage.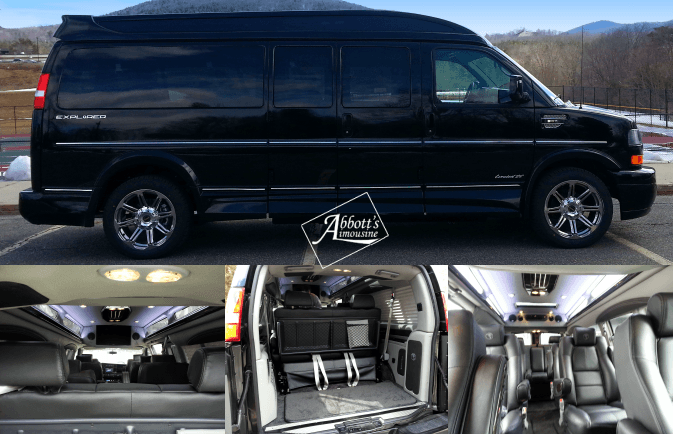 GMC Savanna 8 passenger Luxury Van
2015 GMC Savanah our 8 passenger plus luggage van is decked out with all the candy. It features a panoramic sport roof with a vista view sky light, Fiber optic ceiling, sofa bed, 6 captain's chairs, 29 inch blue-ray TV, electronic hidden running boards, and ground effects lighting. This is one of the sweetest rides you can get!

Lincoln Executive L model Extended Sedans
We use only the safest and most reliable luxury vehicles that accommodate up to four passengers comfortably with luggage. They are longer than the average sedan allowing for 6 inches extra trunk room and 6 more inches of leg room.

Stretch Lincoln Limousine
A sweet addition to our Limousine fleet
8 passenger black Lincoln limousine.
With 5 doors and a Bentley interior.
We Provide
Service To and From Berkshire County of
Western Massachusetts and Beyond
24 hour daily year round operation

Private Service anywhere

Last minute service

Meticulously maintained and cleaned vehicles

Adverse weather travel

Expert- discrete chauffeurs

GPS and traffic apps

Up to one hour complimentary wait time at airports for delay in flight or luggage

Door to door service

Live personal service on phones

Transportation to airports, trains, ferries, buses & ports. We offer package pick-up and delivery service, transportation for weddings, proms, special events, sporting events, wine tours and funerals. We can meet every travel need

Chaperone or airport greeters available

Van service for groups of up to 11 passengers

Wine trail tours

Historical tours of local areas or surrounding cities

Tour guides available
Limousine Service
• Cadillac limousine amenities include:
– partition window
– intercom to driver
– tv/staellite radio/dvd
– stereo with cd
– phone and computer ports
• For special events, corporate use, airports, weddings & proms
• Fully Uniformed chauffeurs available
• Six-door limousines available for funerals
Car Interiors
We have both the Lincoln Executive L sedans and Cadillac DTS sedans. This is the largest model car that Cadillac offers. They accommodate up to three passengers comfortably with luggage.
Van Service
• For groups of up to 11 adults, this is the most inexpensive and convenient way to travel to any location.
• Round-trip or one-way transportation
• Plenty of room for luggage
• We will stop at your convenience for any purpose, including picnics!
• Driver/chaperon always available
• Clean, well-maintained, air-conditioned vehicle
Tours
• Tours of New York City, Boston and Berkshire County
• Tour guide available on request at time of reservation
What type of vehicles do you have?
If you missed the display of Our Fleet you can You can view Our Fleet Here.
How long have you been in business?
We have been servicing the transportation needs of the public since 1965.
How can I be guaranteed you will pick me up?
Our reputation is our best asset! We have been in this business for over 50 years and plan to be around for another 50! We will send you a confirmation and you will be provided with the drivers name and cell phone contact. We check flights and confirm travel the day before. We cover all the based so that you can feel secure.
How will I find my driver at the airport?
We meet our passengers at the baggage claim area with a sign bearing the last name or company name of the traveler. (Note: Some airports have special limo areas. This information will be covered upon booking.
How would I reach you in case of emergency during my travel?
We have live personal service on our phones 24 hours a day, 7 days a week. We also provide the drivers cell phone number for your convenience.
How late can I call your offices?
Our regular office hours are 8 a.m. to 8 p.m. However, you can reach us in an emergency 24 hours a day.
What is your cancellation policy?
We require a 24-hour cancellation notice for most travel. However, we realize that travel—especially air travel—can be unpredictable; if you reach us before your driver has left our office, in most cases you will not be charged.
How can I pay you for my transportation?
We accept Visa, Master Card, American Express and Discover. We also accept most personal and business checks or cash.
How much notice do you require for a reservation?
We ask for 48 hours notice, but if it is at all possible, we will serve your travel needs any time you call. It is never too early to book a reservation.
What are your hours of operation?
We service your travel needs any time of the day or night, 24 hours a day, 7 days a week, including holidays.
What types of service do you offer?
We offer transportation to and from airports, cities, trains, buses, ferries and ports. We also offer package pickup and delivery services; transportation for weddings, proms, special events and funerals; we cover it all.
Dr. Cornelius Nase Campbell House built around 1845 as a two story house with an ornate cross gable and a cupola is located in Stanfordvill New York. Click Here to Read On
Contact Us
Abbott's Limousine & Livery Service, Inc.
435 Greylock Street
Lee, MA 01238 USA
Phone: 413-243-1645
Fax: 413-243-3034
Email: info@abbottslimo.com
  →→→→Tap to Call←←←←
To obtain and submit your completed application
Click button below and download application to your machine

Complete your job application and save it on your machine


Click on the Massage Us tab in the contact section you are on now

Fill out contact form, on the bottom there is a Choose File Button

Click the Choose File button and a small window will pop up

Find the job application on your machine select it and click Open

Check the box I an not a robot

Now just click Send and you are done!
If you prefer another method of submitting your app you may choose the from the following methods.
Email: your application as an attachment to ~ info@abbottslimo.com
Fax: your application to: 413–243–8247
Mail to: Abbott's Limousine, 435 Greylock St. Lee MA. 01238